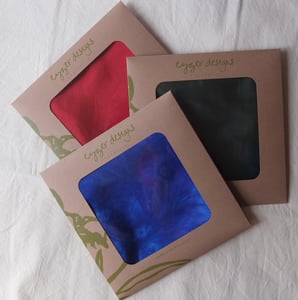 $

58.00 - On Sale
Choose any three of your favourite $18 Habotai Silk Scarves and pay only $52! Just select this option and let us know your three preferred colour options.
Colour choices are:
Bush Floor
Bushfire
Boronia
Wattle
Gum Leaves
Hardenbergia
Opal
Reef
True Blue
Waratah
Distant Hills
Sunset
Granny Smith
Granite
Desert Noon
Each scarf will come individually wrapped, making them an ideal gift for Mum, Mother-in-law, Auntie, Sister, Gran, Neighbour, Cousin, Teacher ... the list goes on!
Each scarf is 100% silk and would suit even the most sensitive of skin types. The perfect alternative to wool.
Scarves measure 25cm (9") x 132cm (51.9").
Feel free to contact us if you have questions or would like a scarf custom made.